Parents of Seniors!
The widely anticipated Senior Breakfast is just one week away! Your student's invitation was sent home last week (see below).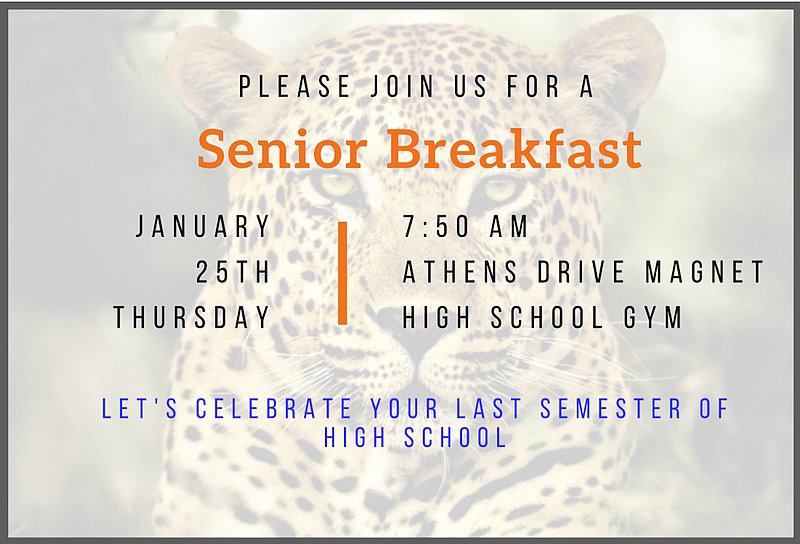 Annual Senior Class Breakfast
Thursday, January 25nd at 7:50 AM
The Senior Breakfast will include a variety of food including chicken biscuits from Bojangles and Chick-Fil-A, biscuits from Hardees, Yogurt Parfaits from McDonalds, Bagels from Bruegger's, fruit and much more!
During the breakfast, raffle prizes will be awarded! There will also be a momento for each Senior Classman.
We couldn't host this event without the help of local businesses and donations from parents/guardians.
If you haven't already, please consider making a donation.
You can make a donation online by using the secure PayPal Portal. You do not need a PayPal account to use the PayPal portal.
To Donate, use the form at the bottom of this page.
For those who prefer to pay by check:
Checks payable to Athens Drive PTSA with Senior Breakfast written in the memo line.
Checks can be dropped off at the ADHS Main Office in the PTSA mailbox or mailed to:
Athens Drive PTSA 1420 Athens Drive Raleigh, NC 27606
Please forward this post to all of the Athens Drive Senior parents your know.
The Seniors will also be treated to a fun Senior picnic towards the end of the year. You will not be asked to donate to that event.
Use the form below to make a donation to the SENIOR BREAKFAST. Thank you!